Club Development Plan
MAKE A DIFFERENCE
GAA President Larry McCarthy is regularly quoted as saying, "if you build it, they will come".
However, getting them to come has never been our issue here in Patrickswell. Our GAA club has been the heart of our community since 1943, and Páirc Antóin O'Briain has been the playground for generations of us growing up in "the Well".
ONE CLUB
Patrickswell runs a One Club structure, operating a joint GAA and Camogie club under its umbrella.
It's approaching 70 years since the club won its first count Junior championship, followed by the first of a record 20 Senior titles ten years later, an achievement the community is very proud of.
Patrickswell has a proud tradition of providing players to county teams of all ages. The club has always punched above its weight, considering the size of the parish. While success on the field has continued throughout the club's history, there is no doubt that our exciting club development plans for the club are badly needed.
A LEVEL PLAYING FIELD
Hurling is one of the world's fastest and most skilful field games. Its popularity in recent years has reached exceptional proportions, with interest in the game spreading far beyond Ireland to America and the Far East. The promotion of the game through television and print media has brought the game in line with other major sporting games worldwide.
To continue to compete at the highest level, we need to develop our Club facilities to support our players in reaching their potential, encourage new members and continue with our strong tradition and association with hurling.
Our development plan includes:
The upgrading of our currently sloping pitch into a top-quality floodlit playing pitch
A walking track
Adding a second much-needed training pitch
Upgrading clubhouse facilities to the state-of-the-art standard that our players deserve
The plan's implementation will be on a phased basis commencing with the development of the top-quality playing pitch, floodlights and walking track. This major fundraiser will help to facilitate the commencement of work on the pitch in early 2023.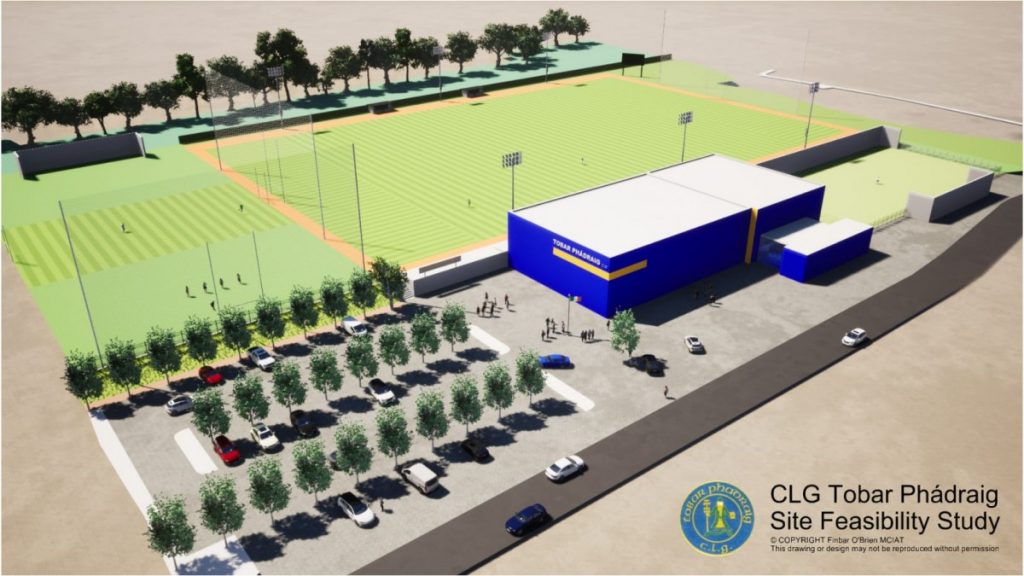 INVEST IN THE FUTURE
The hard work of numerous club members who generously give their time has created this development plan, representing a new exciting chapter for our club, the parish, and the County.
Each ticket you purchase is an investment in our future and the future of generations of players to come.